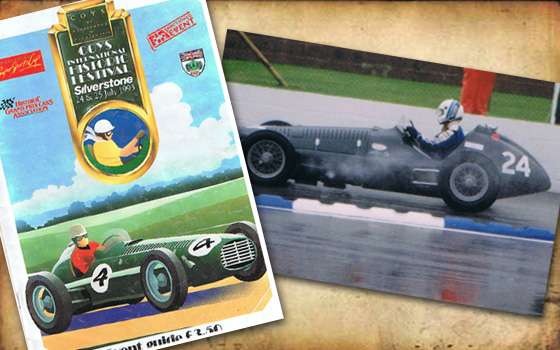 I was at Silverstone in 1993 for the Coys Historic Festival race meeting, at which Nick Mason had brought along the 1952 BRM V16 Project 15 from his extensive collection to compete in the pre-1960 Grand Prix cars race. Plenty of excitement surrounded the little BRM, and with good reason, as this was the first time one of these cars had been raced since 1955. It was even featured as the cover car for the event programme.
Witnessing this ambitious race car in action was an interesting experience, and obviously a memorable one, as it has left an impression that has lasted nearly 20 years. Of course, the true character of the BRM V16 is its engine. I was sitting in one of the Silverstone grandstands near the start-finish line when the qualifying session for the pre-1960 Grand Prix cars shattered the early morning silence at just after 10.00am on the Saturday. The weather was typical British summer, rain and a cool wind.
From my vantage point, the cars would burst into view as they blast through Bridge Corner, then weave their way through Priory, Brooklands, and Luffield, before winding up through the fast Woodcote and down the front straight. Despite the competing noise from the other cars, I heard the BRM before I actually saw it.
This fussy little machine popped out of Bridge Corner and noisily made its way towards me, but the experience was a mixture of excitement and confusion. The BRM sounded like it was travelling at 200mph, but it clearly wasn't. Not even close. It wasn't even keeping pace with those around it. It appeared the stroppy little 1500cc engine wasn't running cleanly, despite all the anger and rage screaming from the exhausts. Mason splashed about for a few laps, then disappeared back into the pits.
I reminded myself that in fact this car had an engine of only 1500cc, so why should I expect it to have been any faster than it was? But of course, those 1500cc were packing more than 450hp in a package weighing less than 700kg. Mason and his team were struggling to make the BRM run cleanly, but despite their best efforts, the little green racer wasn't playing ball.
But despite its issues, the experience was immense. Inside that tiny little engine there was a huge amount of action taking place, and it really sounded like it. The noise was incredible, very high pitched, high revving, almost a shriek. It was a physical sound, but not like one I've experienced before (or since), it was like having a tin can with a rock inside it shaken about vigorously inside your head.
Masons team never did get the BRM to run right that weekend. It did start the first race (of two), but lasted only two laps before it was sidelined by fuel-pressure problems, and wasn't seen again. Fortunately for Mason, he also had his Ferrari 250 GTO on hand for the '60s GT races, so the fact the cantankerous little BRM had had a tantrum didn't spell an early shower for its owner. But I felt privileged to have witnessed the car, an experience few have enjoyed, brief as it was.
The British Racing Motors company was established in 1945 by Raymond Mays, who'd headed ERA before the war. It was funded initially by a co-op made up of companies and suppliers within the British motor industry, before one of its shareholders, Alfred Owen, stepped in to take full ownership when the co-op sold out in 1952. BRM was based in the same building as that of the former ERA, and several former ERA staff were also employed. This was a proud time for Britain as it began its massive post-war rebuild, and rightly or wrongly, British Racing Motors set themselves the not-insignificant task of keeping their new racer 100% British, including materials, labour, and parts.
Post war Grand Prix engine regulations offered the choice of either 4.5 litre normally aspirated, or 1.5 litre supercharged, the latter option being the path BRM chose. Development began almost immediately on an ambitious V16 engine, although the car would not debut until 1951.
The 1.5 litre V16 engine was effectively two 750cc V8s in tandem, fitted with four cylinder heads, twin-SU carburettors, and a Rolls-Royce centrifugal supercharger. Each of the sixteen tiny cylinder bores measured just 49.53mm, less than 2". Compression was 7.5:1, while the supercharger ran at four times crankshaft speed. It revved to well over 10,000rpm, some reports suggesting as much as 12,000, with well over 450hp. Little wonder then that the noise it produced was so immense, that is a lot of very small parts moving about very quickly.
The BRM V16 was possibly too ambitious for its time. It suffered a raft of mechanical issues, as would be expected, but it also attained its share of success. And until the arrival of the turbo-era in Formula 1 during the 1980s, the BRM V16 remained the most powerful 1.5 litre GP engine ever built.