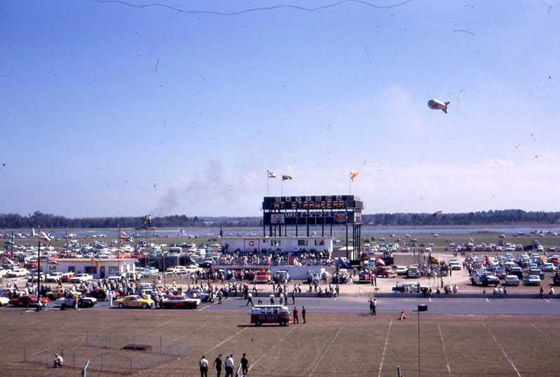 One of our own Roaring Season members, Dog427435 took these amazing photos during Daytona Speed Week, in 1962. He first put me on to them when I asked his permission to run some of his other photos, ones he'd taken at Daytona in 1969, for the Citrus 250 Nascar Grand Touring event.
When he sent me the shots from Daytona '62, I sat and stared at them for what must have been over half an hour, just taking in all the detail; the shops, the people, the cars, and the scenery. These are an incredible step back in time, to when Daytona was a sleepy sea-side town. Classic late '50s/early '60s American iron rumble lazily along the quiet streets, nobody seems to be in a rush. People are cruising their family sedans up and down the beach. And note, all the cars are American, not a foreign car in sight.
The shots of the Daytona Speedway are just as fascinating. There are races here for Nascar Grand National cars and what looks like Modified Sportsman. Note the football pitch in the tri-oval area in front of pit lane. The Grand National cars are the headline act, and therefore, they get the prime pit garage spots and infield locations, but even then, the infield surface is all grass and dirt.
Enjoy.