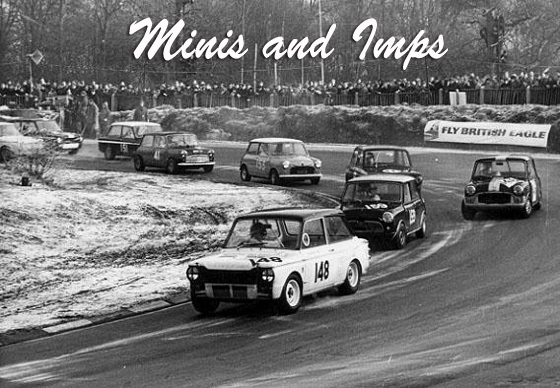 Roaring Season member ĎShanoí started a thread dedicated to Miniís and Impís, and their various off-shoots and siblings, and its gone absolutely ballistic. These pint-sized brawlers were rivals both on and off the track, and both marques built considerable motorsport success throughout the 1960s and early 70s in the UK, Europe, and Australasia, winning numerous saloon car championships, the Bathurst 500, and the Monte Carlo Rally.
These feisty pocket-rockets punched well above their weight, and have built a dedicated hardcore fan base over the years. The Mini was launched in 1959, marketed as the Austin Seven and Morris Mini Minor, but soon became known as the Mini. The Mini Cooper was released in 1961, as the sporting version of the marque, and quickly found favour with racing competitors around the world.
Four years after the release of the Mini, the Rootes Group hit the market with the Hillman Imp, powered by a rear mounted alloy Climax engine, which would go on to wage war on the race tracks against the Mini for the next decade in all competition.
These days, Miniís are just as popular in historic racing as they ever were in period, and likewise, although Impís have never quite enjoyed the competitor numbers the Miniís have, theyíre still a force in historic racing, and, like the Mini, retain a character that far exceeds their diminutive size.
The Minis and Imps forum thread can be
viewed here > >