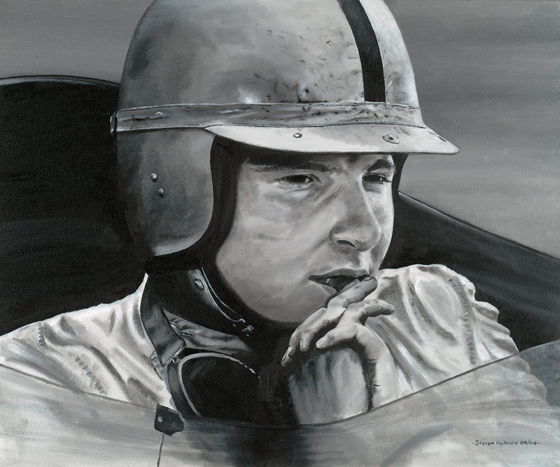 Every year, on the 30th of August, I become one year older. I share my birthday with people such as Cameron Diaz, and Warren Buffett. But, more importantly, I share my birthday with my fellow countryman, and hero, Bruce McLaren.
I was only a teenager when I became fascinated by McLaren. I'd never seen him race, in fact, he was killed before I was even born. But I read a lot of old car magazines when I was young, and was always fascinated by this young Kiwi, taking on the world, driving cars of his own name, which he'd designed, and built with his own hands. It wasn't until I lived in the UK that I truly understood the impact McLaren had had on the racing world, and the high regard in which his name is held internationally.
I've read several books written about Bruce McLaren, but the one I enjoyed most was the small autobiography he wrote himself, called
Bruce McLaren. From The Cockpit
, which was first released 1964, just as he was on the cusp of heading out on his own to start his own race team, under his own name. The last paragraph in the book has the small description that would eventually describe his own fate, even though it was meant for his team mate at the time, American Timmy Mayer: "To do something well is so worthwhile that to die trying to do it better cannot be foolhardy. It would be a waste of life to do nothing with one's ability, for I feel that life is measured in achievement, not in years alone."
Several years ago, when I was trying to get accepted into the British Guild of Motoring Artists, I was required to do a portrait painting as part of my test. So, of course, my subject matter was Bruce McLaren. It's the only portrait I've ever attempted.
Had McLaren not been killed at Goodwood in 1970, he'd be 73 now. And I sometimes wonder what he'd think of the fascination we enthusiasts have for him and his race cars, and his legacy. He was a forward thinker, an engineer, always looking for the next big thing, the next breakthrough. Would he be interested in his past, or would he still be looking to the future, designing, tinkering, and building something bigger and better?
Bruce McLaren had so many talents, as a driver, and a designer, but perhaps his biggest natural gift lay in his people-skills, his ability to motivate those around him, to believe in the cause enough that they'd forego almost everything outside of his race team to please him.
Bruce McLarens light certainly shone brightly, if all too briefly.
Comments about this article can be
viewed here > >
: