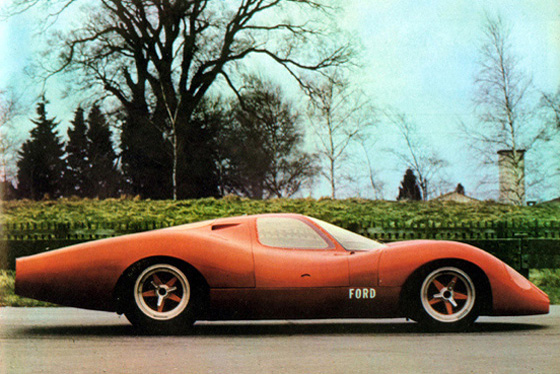 Iíve begun to notice a pattern. I have a fascination with race cars that were ultimately unsuccessful in competition, either through poor design, poor execution, or just a lack of financial commitment. Where does the beautiful Ford P68/69 (also known as the F3L) fall in that list?
The P68 was penned by Len Bailey, who was also responsible for the Ford Motor Company funded Can-Am efforts, the Honker II of 1967, and the
Open Sports Ford
, of 1969, the Honker II having been campaigned by Holman-Moody. And the family resemblance between all three designs is clear to see. Interestingly, all three cars suffered from a lack of funding, a lack of commitment, a lack of race and testing miles, and never reached their true potential.
The Ford F3L (F3L relating to this being a Ford 3 litre), in concept, was a good idea. With Ford money, Bailey design, and the cars built and campaigned by Alan Mann Racing, it was created for the new FIA prototype sports car regulations for 1968, which required a maximum 3,000cc for competition based motors, or 5,000cc for stock block production based motors.
The rest of this article can be
viewed here > >
.