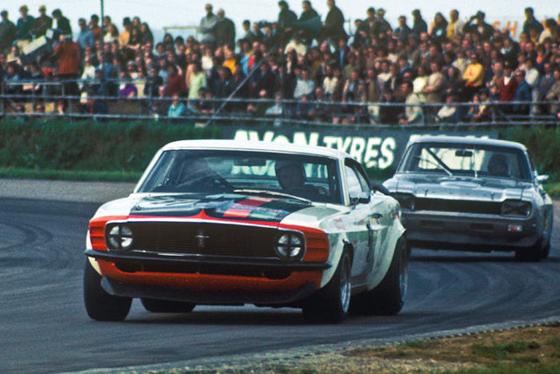 If only championships could be won purely on ambition and big thinking. Then surely Dennis Leech would be 1972 British Saloon Car Champion. Leech's slightly unorthodox approach to trying to topple the established heavy hitters in the BSCC, was ambitious, and ultimately a failure. But as a young team owner, with a tight budget, Leech's efforts should be remembered for what they were, for purely trying to out-muscle the opposition, with what is likely the worlds only 429 Boss powered road race Mustang.
For teams competing for outright race wins in the 1969 BSCC, the last under Group 5 rules, there were really only two options, the Ford Escort Twin-Cam, or the American Ford Falcon Sprint. The Falcon had been granted an impossible homologation weight limit in 1964 of just 980kg, when a brace of these machines were entered for the Monte Carlo Rally, prepared by Hollman-Moody, and that same weight limit carried over to touring car racing. To help reach this limit, the Falcon had been granted the use of fibreglass doors, front mudguards, hood, and trunk lid.
For the 1969 BSCC, Falcon Sprints were entered for Brian Muir, Roy Pierpoint, Terry Sanger, Martin Birrane, Mike Moore, and Dennis Leech. Pierpoint got his campaign off to a good start, winning four of the first five races, with Frank Gardner claiming Round 2 at Silverstone in his Alan Mann Racing Escort TC. In Round 6, at Crystal Palace, Bill Shaw Racing entered a new Chevrolet Camaro for Pierpoint, but the Camaro was struck down by a spate of mechanical issues until gaining its breakthrough win in Round 8, at Croft, followed by victory in the next round at Silverstone. When the Camaro was destroyed in a shunt at Round 9's Oulton Park, Pierpoint reverted back to the Falcon for the final two races.
As a late arrival to the '69 season, Leech came on strong towards the end, winning Round 9, at Oulton Park, Round 10, at Brands Hatch, and placing 2nd to Gardners victorious Escort in the final race, held once again at Brands Hatch.
For 1970, and the introduction of Group 2 rules, several teams again went in search of American V8 power. Bill Shaw Racing built a new Camaro for Pierpoint, while Malcolm Gartlan Racing, who ran a Falcon Sprint for Brian Muir in 1969, imported a 1968 Penske Racing Camaro, with backing from Wiggins-Teape. Pierre de Plessis entered another Camaro, to be driven by David Piper, David Hobbs, and David Prophet at various times. Meanwhile, with Alan Mann Racing closing its doors at the conclusion of the 1969 season, Ford Advanced Vehicles sent one of the 1969 Bud Moore Racing, Kar-Kraft built Trans-Am Mustangs to England for Frank Gardner, whose team updated the car with 1970 bodywork.
Meanwhile, Dennis Leech had set about building a new Boss 302 Mustang, which made its BSCC debut in Round 5 at Crystal Palace, where the car retired after qualifying 3rd. Leech also entered the car in a support event to the Spa Francorchamps 1000km race, with Jackie Ickx driving, but again it retired while leading. The best result recorded by Leech in the 1970 BSCC was 2nd, in both Round 6 at Silverstone Round 8 at Croft. But outright race wins in 1970 were shared between the Australian drivers Gardner and Muir, although John Fitzpatrick impressively drove his Team Broadspeed Escort TC to victory in the final race at Brands Hatch. Fitzpatrick, along with team mate Chris Craft, and John Willment Racing's Mike Crabtree were often snapping at the heels of the big cars.
For the 1971 season, Leech fitted the Mustang with a larger 351 motor top with quad-Webers, to take on increased opposition. Team Broadspeed were now equipped with their new BDA Escorts, with fuel-injection and 5-speed gearboxes. Gardners Mustang was heavily damaged when being unloaded in an Australian shipping yard late in 1970, and he moved to Adrian Chambers' SCA Freight team part-way through the 1971 season, to run a Camaro. Martin Thomas, who'd raced an earlier Mustang in 1970, purchased the Pierpoint Camaro for the '71 season. A new RS2600 Capri was entered for Gerry Birrell. Meanwhile, Martin Birrane, who'd been racing a '68 Mustang notch back throughout 1970, imported a 1970 Boss 302 Mustang which had been the development car for Kar-Kraft. Malcolm Gartlan Racing had now fitted Brian Muirs Camaro with a larger 350ci motor.
The battle for outright race wins during the early races in 1971 was between Muir and the flying Fitzpatrick, while Gardner appeared for the first time in the SCA Freight Camaro in Round 5. This was too late for him to mount a challenge for the championship, but he immediately challenged Muir for race wins, taking his first victory in Round 7 at Silverstone. For Leech, it was not a good season. The Mustang was struck by mechanical issues in several races, the only real positive being a second place in Round 10 to Fitzpatrick, although the Escort driver was well up the road at the finish.
Of course, with class victories counting for the overall championship, Bill McGovern took the title in his incredible Hillman Imp, following on from his 1970 victory.
The rest of this article can be
viewed here > >
-