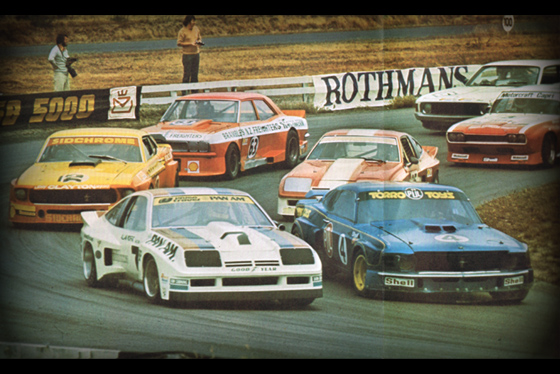 Some years ago, I set out to write an article for
Australian Muscle Car
magazine on the big international sedan races held at Bay Park, New Zealand, in December 1975. This was one of the most talked about New Zealand sedan racing events of the 1970s, which brought together the top machinery from three different worlds, that of New Zealand, Australia, and the US. It included the DeKon Chevy Monza's of Allan Moffat and Red Dawson, Moffats stopping by NZ on its way to its new home in Aus. Also from Aus was John McCormacks incredible Repco Charger which moved the goal posts in Aussie Sports Sedan racing when it first appeared in 1974. And ex-pat Kiwi Jim Richards returned home with the Sidchrome Mustang, which he'd taken to Australia earlier that year. The top Kiwi machines including Jack Nazers Chevy Vauxhall Victor
Miss Victorious
plus Leo Leonard in the PDL Mustang, Grant Walker in the ex-Paul Fahey quad-cam Capri, and Don Hallidays similar self-built Capri.
Those races have been written about several times, so I won't repeat all that, but when I set out to write the article, I immediately hit a brick wall, as my good buddy, Terry Marshall, who I usually rely on for his stunning photography, wasn't at this event for some reason. So there I was, with a good story to tell, and no photos to accompany it. But I knew it had been well covered, and one of my all-time favourite photos, which shows the first half-dozen cars from this event swooping through the last turn, setting up for the rolling-start blast-off in race one, was published in the 1976 book
Evan Greens World Of Motorsport
of which my father was given a copy when first released. This was a photo I'd studied over and over.
Robin Curtis was publishing MotorAction magazine in 1975, so I got in touch with him, and asked if he had any photos available from this event I could use. I knew he'd attended the event, because MotorAction reviewed it. But Robin, who has been a motorsport journalist all his life, has never archived his collection of photographs so specific images can be easily plucked out at a moments notice. So in among his more-than 40,000 photos, from decades of motorsport involvement, were some absolute ripper images (and Robin is a bloody good photographer) from the 1975 Bay Park races, that were buried and would take forever to find.
Just on the off-chance, I asked Robin if he knew of a Philip Robinson, as Philip was credited with the photo that appeared in the Evan Green book. And to my amazement, not only did he know him, but he'd taken Phil, who was still a teenager at the time, along to this event, where Phil used both his own camera, and borrowed Robins, to snap several shots of the action. Robin gave me Phils contact details and I immediately got in touch.
Unfortunately for me, the photo from the Evan Green book, was, like several others of Phils, taken from a slide, which Modern Motor magazine 'borrowed' off, because they wanted to get the scoop on Moffats Monza, which had yet to arrive in Australia. But the slide never made its way back to Phil, despite some others being returned to him, so I had to scan the image from the Evan Green book, which an across two pages, hence the crease through the middle.
However, Phil still had several colour and b/w negatives from this event, which he kindly had converted to cd for me, and for which I was hugely appreciative. Some of them were run in the AMC article, but I thought The Roaring Season was a good place to show what Phil sent me. There are only 24 photos in total, all taken from the last corner, but still of huge interest, and capturing most cars in the field. So, enjoy!
The rest of the collection can be
viewed here > >
-