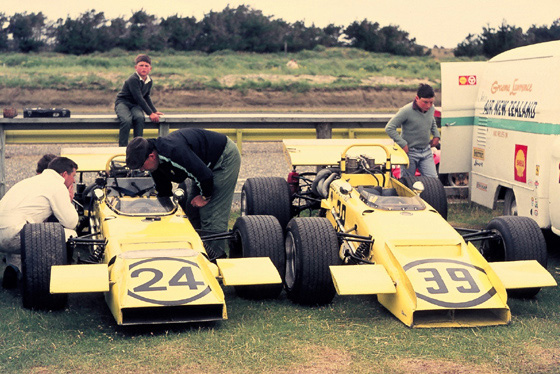 I felt this fantastic little collection of photos by Ian Peak deserved its own thread. Former New Zealand motorbike racer George Begg built a series of race cars from his engineering workshop in Drummond, just north of Invercargill. 18 cars carried the Begg name, starting with the little 650 in 1963, and concluding with the 018 F5000 in 1974.
Begg returned to New Zealand from the UK in early 1957 with wife Freda, who he'd just recently wed, after having met on the Isle of Man. He'd quit racing in 1956 after his best friend Bob Cook, who Begg had travelled to the UK with, lost his life at Aintree. Eventually he set up a small engineering company in Drummond on a farm his father and brother worked. His little company, G. N. Begg, Engineer, became inundated with work after he'd invented a device that could clamp hold a sheep, and flip it on its back so the farmer could rid its feet of footrot.
By 1963, and with business booming, Begg was looking for a hobby when he stumbled upon a book called "Racing and Sports Car Chassis Design", by Michael Costin and David Phipps, and inspired, set out to build his first race car.
With Teretonga being just down the road in Invercargill, this was Begg's local race track, and the place most of his race cars would debut, after their customary blast up and down 'Drummond Straight', the road outside his engineering business. Although not every Begg is pictured here, a good number are, and certainly enough to warrant their own thread.
The rest of the collection can be
viewed here > >
-