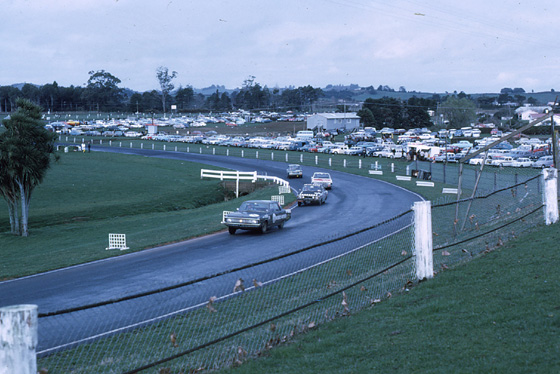 The Benson & Hedges 500 was one of New Zealands longest running car racing events. It grew from the Wills 6 Hour race, which first began in 1963, run by the New Zealand International Grand Prix organisation. The Wills 6 Hour was held at the Pukekohe circuit, just south of Auckland. Cigarette company WD & HO Wills provided the backing. The race was open to production touring cars, and was won by Tony Shelly and Ray Archibald in a 3.8 litre MkI Jaguar.
The race quickly gained a strong following, despite some misgivings over the type of vehicles that were allowed to compete. Paul Fahey and Jim Palmer won the 1964 running of the event, in the same modified Lotus Cortina Fahey would use to win the 1965 New Zealand Saloon Car Championship. Jag's again won the event the next two years, before the NZIGP gave it a shake-up for 1967, requiring the vehicles be stock-standard road cars, and that they be New Zealand assembled. From 1968, the race would be held over a distance of 500 miles, rather than the 6 Hour timed distance, from previous years. 1968 also saw a switch of cigarette brands to Benson & Hedges.
The B&H 500 became a huge annual event on the New Zealand motorsport calendar right through to 1980, and always at Pukekohe, before switching to a three race endurance series held at the North Island tracks of Bay Park, Manfeild, and Pukekohe.
The B&H 500 took place 13 times between 1968 and 1980, but was only won by five different makes: Vauxhall Victor (1968/69), Chrysler Valiant Regal V8 (1970/71), Chrysler Charger 770 (1972-78), Volkswagon Golf GTi (1979), and Holden Commodore (1980). And production car racing expert Leo Leonard won the race six times, four of which were with Ernie Sprague. Sprague also teamed up with his son Gary to win the last Wills 6 Hour race in 1967 driving a Ford Zodiac.
Rod Coppins also enjoyed a lot of success in the B&H 500, winning it four times; twice with Jim Richards, and twice with Jerry Clayton. Coppins also won the 1965 Wills 6 Hour, teamed with John Ward. Graeme Richardt/Jim Little won the event in 1976, Wayne Wilkinson/Roy Harrington won it in 1978. Richardt had also teamed with Leonard to win the 1971 event. Virtually every driver to have won, was a car dealer! Indeed, the vast majority of contestants through the multiple classes were car dealers. It made sense, these were bog-standard road cars, and nobody in New Zealand had greater access to suitable vehicles. Many were taken off the lot, raced, and returned to the lot the following Monday morning to be sold to unsuspecting customers.
This was a huge event, with a strong following, and the season highlight for many, particularly those taking part. It also enjoyed local New Zealand manufacturer/dealer support, and even produced a couple of B&H 500 race specific specials, including a batch of Fiat 125T's, all appropriately painted yellow.
In Part 2 of the Allan Cameron Collection, we focus purely on the B&H 500. Allan captured images from the 1970, 1971, and 1974 running of the event. And these images make for great viewing.
The rest of this collection can be
viewed here > >
-