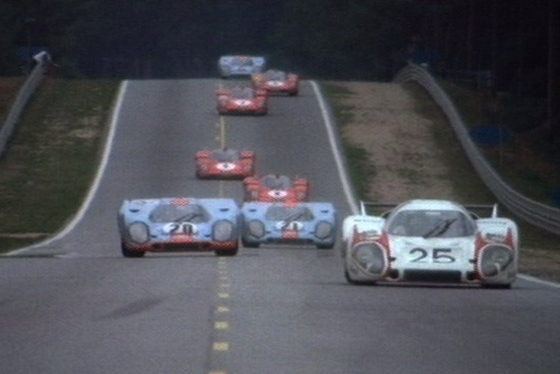 I don't care what anyone says, I love this movie. It was a box-office failure, partially because of the general lack of a strong storyline, partially because there is little dialogue (Steve McQueen doesn't murmur a single word until 36 minutes into the movie) and partially because the race itself doesn't have a wide following in the US.
But of course, I've never watched it for its storyline, or its acting. As a motor racing flick, to my mind, Le Mans is one of the more accurate. I've not watched it from start to finish too many times, but certain segments I think I must have seen hundreds of times. The scene building to the start of the race, the flag drop, and the explosion of engines bursting into life, plus the stunningly produced opening lap, gives me goosebumps every time I watch it. I also love how the instrumental kicks into life as the leading cars all burst across the line to complete their opening lap. Its a very artistic film that captures the period just perfectly.
I know, I know, the 1969 Le Mans race featured the last 'Le Mans' running start, and the dramatic ending between the Jacky Ickx/Jackie Oliver Ford GT40 and the Hans Herrmann/Gerard Larrousse Porsche 908, whereas the 1970 race featured a Porsche 917 demolition of the results, with Herrmann/Richard Attwood winning by 5 laps. But that doesn't take away from the enjoyment to be had from watching this film, in which the final laps are completely fictitious.
I didn't realise this until very recently, that Enzo Ferrari refused to supply cars for the film, unless the script was changed to let a Ferrari win the race. This is very typical Enzo.
The sound is very well done. Its impossible to tire of the thunderous Porsche 917 and Ferrari 512s, and its exciting to see how twitchy these cars are, and how hard the drivers had to work.
I think this film gets better with age.
For those who don't want to view the complete film, someone has kindly taken the time to create this heavily cropped version of the film, removing everything that isn't a racing scene.
Part 1:
Comments to this article can be
viewed here >>
-