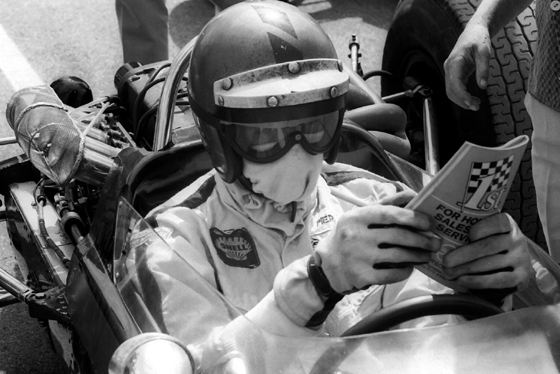 I've been aware of Roderick and his amazing collection of historic Australian motor racing photos for some time. But a message from him offering to share his images with Roaring Season members came completely out of the blue. I'm incredibly chuffed by this.
Rod has had many of his photos published, and you'll likely recognise some of them from the various publications he has contributed to. He has taken thousands of photos over the years, and continues to this day.
This particular chapter focuses solely on the Tasman Series, from the years 1968, when modern day Formula 1 teams and drivers still travelled down-under, through to 1972, by which time both Australia and New Zealand had adopted Formula 5000 as their premier single seater category. I should clarify, that these images are from Tasman Series events, and aren't strictly limited to Tasman Series races. In amongst the collection are also sports car and touring car photos.
Here are a few words from the man himself:
"Freelancing to motorsport magazines provided me with the 'best seat in the house' to witness the spectacle of International drivers and World Champions competing against the best of the Australian and New Zealand drivers in the initial Tasman Cup races for 2.5l F1 cars. This series was effectively a de facto Formula 1 Championship.
"These days you don't get four or five World Champion drivers (Clark, Stewart, Brabham, Hulme, and Hill) and various internationals in current Formula 1 cars racing FOUR! times in a month for the Tasman Cup preceded by four races in New Zealand.
"This fantastic scene evolved into a very similar feast of colour, personalities, speed and thunder for the F5000 Tasman races. International drivers, state of the art cars and the fiercest competition in speed and power from "stock block" engines giving 500 plus horsepower battled for wins.
"The noise and speed and atmosphere can't be matched - with record crowds coming to circuits to see the "open wheelers", with Production and Improved Production Touring cars – these were the forerunners to today's V8 Supercars – GTHO's and Monaros with embarrassingly large motors – purely as support racing for the real racing cars!
"Tasman Series racing had a gladiatorial feel for the spectators who watched drivers battling others who not only battled their competitors but their own cars at the same time. Spectators saw the top line drivers of those times.
"Add to this the noise from engines, with no regulations about noise pollution to worry about! The attack on your senses was an aural delight and rainbows of colour for your eyes.
"Just try to imagine the thrill standing less than a metre from these beasts as they charged through the 'esses' at Warwick Farm or into Peters Corner at Sandown.
Then take photos of the action.
"I saw my access as a privilege and took it pretty seriously that I obtained the best photos I could so that others could see what I saw from trackside. I at least met expenses, and had a lot of fun. I only did photos on weekends – I had a family and career to attend to.
"I used to contribute to Sports Car World and the Australian Motor Racing Annuals, the Annual Shell Book of New Zealand Motor Racing, some occasionally to Wheels and later on to Australian Motoring News - which eventually became Chevron Publishing with Australian Competition Yearbook from 1971, Australian Motor Racing and now some photos appear in Australian Muscle Car and the HSRCA and some other websites.
"I have never really stopped taking racing photos and I am renewing acquaintances in the Motoring press again and mainly now attending Historic meetings. This gives access to a lot of the great cars and drivers from the sixties and seventies again.
"I have a reasonable collection of photographs from the mid - sixties on, and now want to share them with people who would like to understand what we experienced.
"Today's racing is good, but when you see the variety of cars and drivers from yesteryear, I wonder what can be done to recapture the atmosphere and racing that brought tens of thousands of spectators to the tracks regularly".
These are simply stunning images, and quite evocative. I'd like to extend a huge thank you to Rod for sharing these with us. I know you'll all enjoy them.
The rest of this collection can be
viewed here > >
-