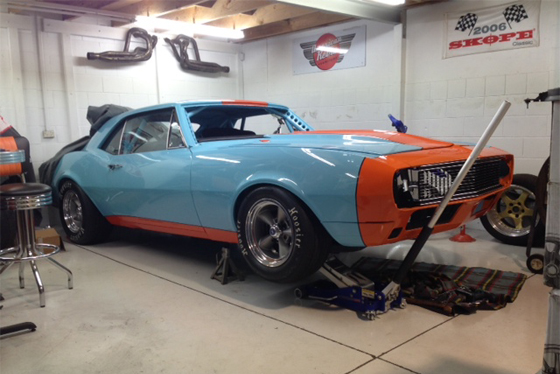 As many Roaring Season members will know, a new historic racing category for New Zealand is Historic Muscle Cars. This class was created to celebrate the history of big-banger large capacity sedans that raced in the late 1970s and early '70s in the New Zealand Saloon Car Championship, plus the Australian Improved Production Championship, Group C, the American Trans-Am Championship, and the British Saloon Car Championship during the Group 5 and Group 2 era.
HMC has been created for genuine car enthusiasts, not ego-maniacs who think they're Lewis Hamilton waiting to be discovered. There is no emphasis on race wins, race winners are not celebrated, rather building and enjoying exciting old big-bore sedans with like-minded enthusiasts is what the category was created for. You can't remove the competitive aspect from people, but with the main focus of HMC being on making the cars themselves the central focus point of the class, it means car owners can go out and create cars that they themselves want to own and enjoy, not necessarily the car that provides them the greatest chance of success on the track.
There are several existing race cars currently being converted to HMC specs, several cars being built, and even a couple that have been purchased from the US, and imported to NZ specifically for HMC! Over the coming months more cars will be appearing.
An early convert to HMC was Dave Sturrock. Dave bought a 1967 Camaro back in 2011 that had been a race car in NZ since the early 2000s, initially in the South Island, but more recently in the North. Its had had a couple of crashes, and when Dave purchased it, he decided to tear it down and start again.
The goal is to build a nice looking, well presented car, that does great skids! Exactly what HMC was created for.
The Camaro will run a small block Chevy, topped with Crower mechanical fuel-injection! This will be pretty cool, and is allowed under the HMC rules, as certain period engine modifications are allowed, mechanical fuel-injection being one of these, which was used on some cars in Australia, including Pete Geoghegans 'Super Falcon, Bob Janes HQ Monaro, and Malcolm Ramsays HQ Kingswood.
Dave purchased a set of Minilight wheels, 9" wide in front, 10" wide in the back, wrapped in Goodyear Bluestreak tyres. This first photo shows the car with the motor pulled, front sheet metal removed, and the Minilites fitted. Rollcage has also been installed here.
The rest of this build thread can be
viewed here > >
-