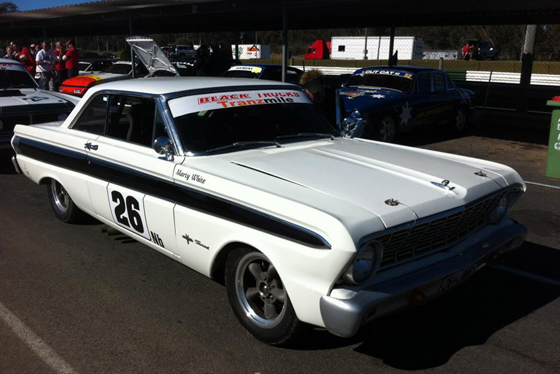 This is the first in a new addition to The Roaring Season. For some time now Iíve been wanting to start putting together mini-profiles of the cars that take part in historic racing events around the world. Although some of these cars have period racing history, many donít.
Many of the cars featured in our mini-profiles were built specifically because their owner wanted to take part in historic racing. They were constructed using a donor car to a set of historic regulations, and are now enjoyed by that owner in their chosen hobby.
The first car weíre featuring is a very cool 1964 Ford Falcon Sprint. It was built by its owner Martin White, of Queensland, who owns John White Racing Engines & Equipment. The company was started by Martinís father, who retired in 1995. They specialize in V8 engine work, more specifically for historic racing.
The Falcon was built to the very strict CAMS Historic Group N Touring Car regulations. Group N is broken into three specific groups based on date:
Group Na: For cars commercially available in Australia prior to 31 December 1957.
Group Nb: For cars manufactured prior to 31 December 1964 of which at least 100 have been produced.
Group Nc: For cars of a make and model which competed in Australia between 1 January 1965 and 31 December 1972 in either the Australian Touring Car Championship or in other races for Improved Production Touring Cars.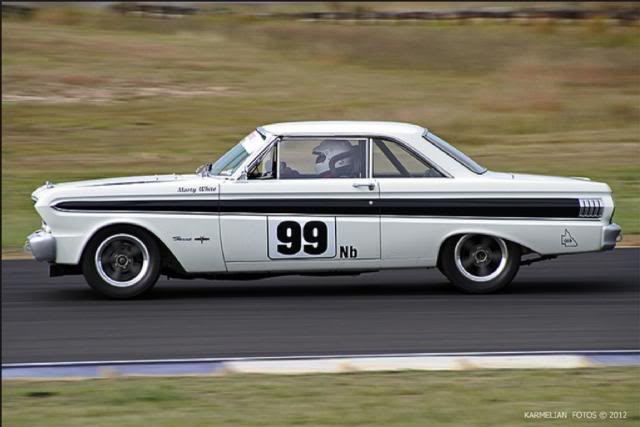 The Ford Falcon Sprint qualifies for Group Nb, which is similar to FIA Appendix K regulations. As such, the Falcon is allowed to run the lightweight body panels allowed under Appendix K, which include doors, hood, boot lid, and front fenders. These can all be replaced with fibreglass items. The FIA minimum weight for the Falcon is an impossible 980kg. To the best of my knowledge, nobody racing one of these cars (be it in Australia or Europe) has managed to reach the minimum weight.
I suspect there may be a few more freedoms allowed under CAMS Nb rules over Appendix K.
Of course, the good thing about building an Nb car is that you can also race it with Nc cars. It may not be an outright contender, but it opens up a lot more options when going racing.
The rest of this article can be
viewed here >>
-