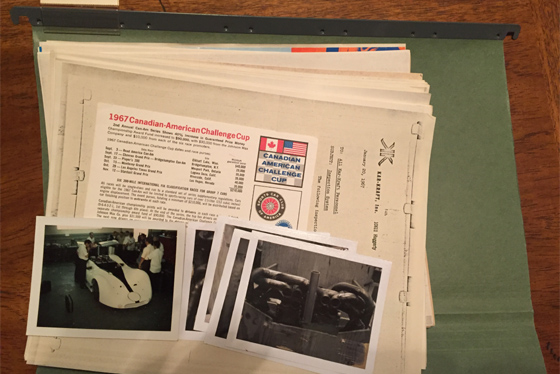 This is another small but fascinating collection of photos sent to me by Randy Hernandez, son of the great Fran Hernandez, who headed Ford Motor Company's racing programs during the 1960s.
Randy has been working through and scanning some of the folders his father brought home during that period, and has kept. These folders include photos and details of Fords various racing programs.
During the 1960s, when Ford planned to enter a particular racing series or event, the world took notice. As was proven by their GT40 efforts to win Le Mans, they were prepared to keep injecting the finances, and employ the personal required to achieve success in the sport. And invariably, they did achieve success. From Le Mans, the World Sports Car Championship, to NHRA drag racing, and the Trans-Am series, they were successful. But there was one notable exception; the Can-Am series for big-bore Group 7 sports cars.
The Can-Am series operated from 1966 through 1974. Run by the Sports Car Club of America, it achieved incredible success, attracting several car manufacturers, and world class drivers, many of which were also racing in Formula 1 at the time. Ford were aware of this, and as outlined in these photos and company letters, put together a plan to enter the series.
When Randy sent me these images, he said everything was inside the one folder. However, they appear to be details for two separate cars, as the first draft from 1967 calls for a small block powered car. In early 1967, when Ford announced they'd be entering the Can-Am, there was talk of grand plans that involved multiple two-car teams. These were to be run by Holman-Moody, and Shelby. In the end, the efforts came to little, with both teams struggling with what would ultimately result in single-car efforts, both of which made sporadic, and unsuccessful appearances.
Both the Ford teams raced Len Bailey designed cars, although both differed slightly from each other. The purple Holman-Moody machine, named the Honker II, was driven by Mario Andretti, while the yellow Shelby machine, named the King Cobra, was driven by the teams lead Trans-Am driver, Jerry Titus. Andretti completed the only race result in the two teams combined efforts, when he finished 8
th
at Bridgehampton, Round 2 of the series. The King Cobra achieved but one race start, at Riverside, which lasted just 3 laps. In fact, the most successful Ford-backed Can-Am campaign in 1967 was that of Dan Gurney, who raced a Lola T70. He failed to finish a single race, but at least he was reasonably competitive.
The first two images supplied by Randy show the paper trail relating to Fords 1967 entry into the Can-Am series, with small block engines.
The rest of this article can be
viewed here >>
-