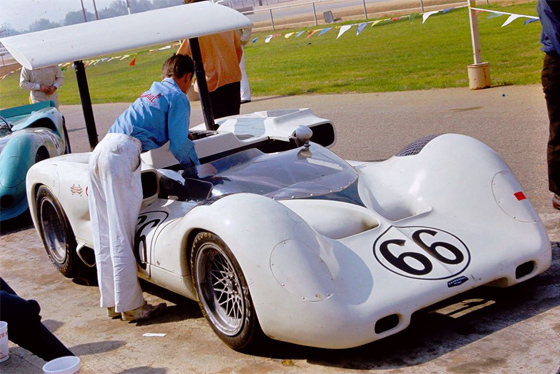 This is Part 1 of an unknown number of Parts of Dean Lester's incredible photo collection. The reason I'm so vague on the size of the collection, is because Dean is slowly rediscovering many of his old photos after several decades, and keeps making new discoveries. How big will it get? Who knows.
Dean was living in Lynwood, California, when he began taking motor racing photos in 1962. Initially his photos were limited to what he could achieve from behind the catch fencing and the from the grandstands at his local track, Riverside. He started out with a Minolta SRT101, but soon realized he needed a longer lens to properly capture the action, so upgraded with a Vivitar zoom. Over time, he got to know Les Richter, the Riverside track owner, which got him into far better places for capturing images, and he spent the next twenty years taking photos for Riverside.
But Dean also ventured far beyond Riverside, including Ontario Speedway, Laguna Seca, Willow Springs, Watkins Glen, Elkhart Lake, Edmonton, Las Vegas, Ascot, and numerous other venues, taking in drag racing, Can-Am, USRRC, Trans-Am, NASCAR, Formula 1, Formula 5000 events, and just about every other division being contested during the 1960s and early '70s. His photos have been published in Sports Car Graphic, Road And Track, Car And Driver, and Stockcar Racing, among others. Dean was also able to get some fantastic track and pit photos, which really capture the era perfectly.
This first part covers mostly USRRC and Can-Am events, largely because these are all Dean has so far rediscovered. For those who don't know, USRRC is the United States Road Racing Championship, created by the SCCA in 1963 for Group 7 sports cars. This was really the precursor to the Can-Am, and continued until 1968. Until the arrival of the Can-Am, the USRRC was probably the most important Group 7 sports car racing series in the world. Its demise really came about because of the Can-Am, as a smaller prize fund meant it didn't attract the superstars of the Can-Am. But it did allow some of the smaller teams to shine.
Anyway, I'll kick this off with various Can-Am and USRRC races, posted in no particular order, largely because this is how I've received them.
The rest of this collection car be
viewed here >>
-