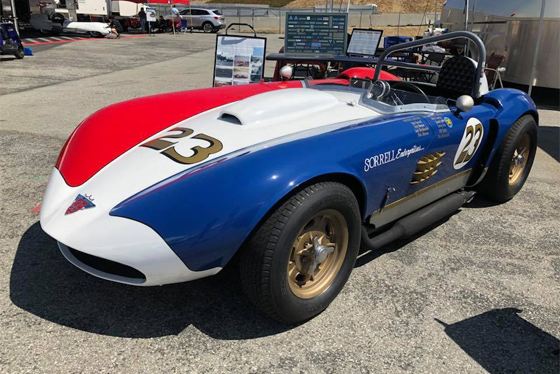 In the old car racing world, August means Monterey, or Rolex Monterey Motorsports Reunion, as its officially termed.
Monterey is one of the longest-running historic motorsport events on the international calendar. But its also remained one of the very best. A trend I've noticed in recent years in European/UK historic racing, is that as the sport has become more and more popular, so has the emphasis on winning races. That in turn has seen a gradual drop-off in some of the more high-end cars competing, as well as those which don't offer the chance for outright success.
But events like Monterey have managed to stifle the need to win at all costs, instead focusing on quality and participation, enjoyment and preservation. At Monterey, the cars are still the most important part of the show.
I grew up with a fascination for American cars, and that fascination naturally grew to include American racing history. Events like Monterey have an incredible variety of historic cars that represent that history, and include the popular European cars that made up most of the post-War grids of the 1950s until the domestic scene really started to make a come-back. Some of the American sports racing Specials of the 1950s are absolutely fascinating, and it was these cars which then evolved into the various competitions for Group 7 machinery, most notably, the Can-Am series. So too, the US established Formula 5000, and the Trans-Am sedan championship, and as these faded during the early/mid 1970s, so other categories, such as IMSA, began to emerge. Monterey celebrates all these incredible competitions.
Monterey is contested over two weekends, starting with the Pre-Reunion, which in 2018, takes place over August 18-19. The Monterey Motorsport Reunion follows one week later, from August 23-26.
The photos featured here have been kindly donated by Robyn Pass Handy. They're my favorite kind of photos; those taken in the pits with the cars sat stationary, and where much greater detail can be enjoyed. The Pre-Reunion has just been completed as I write this, so these photos are hot off the press. I hope you enjoy them.
The photos are a little random, due to the way I downloaded them. So I suggest you just enjoy them as they appear.
Thanks again to Robyn, I know her efforts are greatly appreciated by all those unable to attend.
The rest of this collection can be
viewed here >>
-