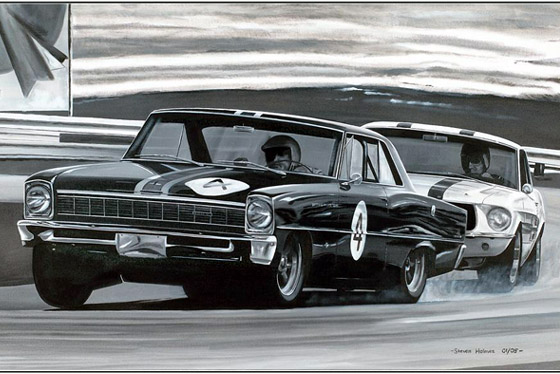 A few years ago I created a series of A2 scale Limited Edition Art Prints taken from a series of large oil on canvas paintings I created back in the early-mid 2000s. I sold these to help fund the ongoing costs of The Roaring Season.
The paintings were all based on significant cars from the Australian Improved Production era of the ATCC, and included Bob Jane's ZL1 Camaro, Pete Geoghegan's '65 Mustang and Super Falcon, Norm Beechey's Nova and HT Monaro, and Allan Moffat's Kar-Kraft Mustang.
The prints were limited to a maximum of 50 for each design, all numbered and signed by myself. They measure 59.4cm x 42cm, printed to 220 gram art paper, and make an incredible feature for any automotive-based room, be it office or garage. I suggest you have them framed.
People were able to choose the print number they wanted, from 1 to 50, assuming it hadn't already sold. The prints were then produced to order.
As I didn't sell 50 of any of the art prints back in early 2016, I'm now making this offer available once more. The prints cost NZ$65 each plus shipping. You can choose your preferred print number, from 1 to 50, if it hasn't already been sold. Each is signed and numbered by myself.
The deadline for getting in orders will be 20 January, 2019. They'll be printed to order, so once January 20 arrives, we'll close it off and set about having the orders printed.
If you're keen to own one or more of these prints, please email me at:
theroaringseason@gmail.com
to secure yours. Once they're gone, there will be no more. I can promise they really look spectacular framed and hanging on the wall.
Four of the original oil on canvas paintings were sold many years ago to David Bowden, one I gave to my father, and one I still own.
The rest of this article can be
viewed here >>
-