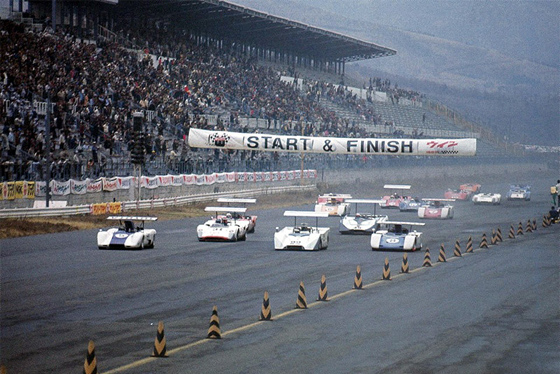 When most people think of Group 7 unlimited sports car racing, they think of the original Can-Am series that ran from 1966 - 1974. But Group 7 was adopted in other parts of the world, too, most notably, Europe and Japan. The European series began in 1970, and was called the Interserie. It didn't enjoy anywhere near the success of the Can-Am.
The Japanese variant began in 1968. Sports car racing was already hugely popular in Japan, despite motor racing still being in its infancy in this country. Only a few years earlier, in 1963, Japan hosted its very first international racing event, at Suzuka, Honda Motor Company's test track. This event, contested by sports cars and saloons, was called the Japan Grand Prix. From there, sports car racing quickly evolved, and enjoyed strong manufacturer involvement, most notably from Nissan and Toyota.
When Group 7 was introduced in 1968, Nissan/Price, and Toyota (in partnership with Yamaha) set about building new cars. The Nissan was the more impressive. Although intended to be fitted with its own V12 engine, delays in its development forced the company to fit its impressive new R381 with a small block Chevrolet V8. The Toyota/Yamaha model, however, was far more modest, more dated, and looked somewhat like an old Lola T70, itself a design already several years old. Its crowning glory was a beautifully designed and constructed 3 litre quad-cam V8 engine, created by Yamaha for Toyota, specifically for Group 7 competition.
The little Toyota (labelled the 415S) won several races in 1968, but this was thanks largely due to the absence of Nissan, whose only interest was in contesting the Japan Grand Prix, now held at the mighty new Mt Fuji Speedway. In 1968, winning the Japan Grand Prix was more important than winning all the other races combined. And it was at this event Nissan wiped the floor with Toyota, with its two cars qualifying first and second, and one of them going on to win handsomely. The first Toyota to reach the finish was down in eighth, several laps behind the winner.
A new Group 7 event was introduced in 1968, called the World Challenge Cup Fuji 200. For this race, several teams from the Can-Am series were invited, and while no factory McLaren's or Chaparral's entered, Mark Donohue, Peter Revson, Jerry Titus, and Jo Bonnier were all aboard McLaren M6 models. Donohue's was the Penske car, while Revson's was the Shelby car. In addition, Sam Posey, Al Unser, Chuck Parsons, and Pedro Rodriguez would all drive the latest Lola T160ís. Such was the anticipated speed of the American Can-Am cars, organisers opted to run the track in the reverse direction. Mt Fuji Speedway featured an incredible high-speed superspeedway first turn, connected to the end of the 1.5 kilometer long Start/Finish straight. Mt Fuji Speedway was initially conceived as an American-style oval super-speedway, but a funding shortfall early in its build saw it reverted to a more conventional road course layout, after the first turn had already been constructed.
Five updated Toyota 415S's were entered, while Nissan opted to skip the event. The best finishing Toyota was that driven by Yukio Fukuzawa, in fourth. But the results didn't tell the whole story. The Toyota's were massively outpaced, and over the course of the 75 lap race, Fukuzawa was lapped seven times by eventual winner Revson.
For 1969, Toyota aggressively upped its game, and developed the 474S. Overall a much more modern car, albeit, still using a tube-frame chassis, as the 415S had done, its V8 engine was now increased to 5 litres. Nissan, meanwhile, had also been busy, and launched its new R382, now fitted with its own 6 litre V12 engine.
Again, Toyota took several victories throughout the year, in Nissanís absent. Come the 1969 Japan Grand Prix, and three R382's were entered, against four Toyota 474S's. In addition was a pair of Isuzu R7's, powered by Chevrolet V8 engines, plus a couple of locally owned Lola T160s, and a new Porsche 917, sent out by Stuttgart, with Jo Siffert and David Piper sharing the driving.
The Nissanís were fastest in qualifying, its three cars claiming the first three grid positions, while the first Toyota was fourth, albeit, 3.5 seconds off pole. From the start, however, Toyota took the fight to Nissan, with the Porsche also battling the front-runners in an epic multi-car train. But eventually, the Nissanís greater speed told, and at the finish, R382ís were first and second, with the first Toyota in third, one lap adrift.
Come the 1969 World Challenge Cup Fuji 200, Nissan again chose not to attend. Toyota, however, did, and entered three 474Sís, with completely redesigned bodywork from that which contested the Japan Grand Prix. In addition was a fourth Toyota entry, this a 1969 McLaren M12, purchased by Toyota as a development mule for its own cars. The McLaren was also fitted with a 5 litre Toyota V8.
International entries included the Autocoast Ti22 of Jackie Oliver, the latest Lola T163ís for Chuck Parsons, Peter Revson, and Gary Wilson, a McLaren M12 for Lothar Motschenbacher, the Ford G7A for John Cannon, and a Porsche 908 for Tony Dean.
As if to underline its rapid development, the fastest Toyota in qualifying was that driven by Minoru Kawai. He was third, ahead of Revson, Cannon, and Parsons, while Oliver took pole in the Ti22. The Ti22 appeared late in the 1969 Can-Am championship, but quickly proved a serious rival for the dominant McLaren team. Impressively, second fastest at Mt Fuji was the Toyota/McLaren M12, driven by Hiroshi Fushida, just 2-tenths slower than Oliver. Come the race, Kawai won, from Cannon and Motschenbacher, after the Ti22 dropped out.
The rest of this article can be
viewed here >>
-