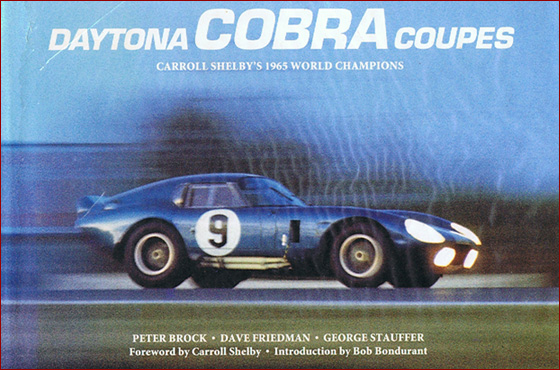 I actually came to own this book completely by mistake. I'd visited the excellent Chaters Motoring Booksellers
www.chaters.co.uk
in Surrey, England, in 1994, and purchased several books. And just as I was leaving, I noticed the newly released
Cobra Ferrari Wars 1963-65
, by Micheal L. Shoen. The following year, I phoned Chaters, and ordered the Micheal L. Shoen book, but Chaters sent me
Daytona Cobra
Coupes
by Peter Brock, by mistake. I'd read a review of the Brock book, and it sounded impressive, but it wasn't what I'd ordered. But both books cost 69.99 UK pounds, so I was pretty happy with my purchase, regardless. Plus, it had been signed by a few people involved with the Daytona Cobra Coupes, although it wasn't one of the 400 that contained the extensive roster of drivers and crew.
Daytona Cobra Coupes
was written by Pete Brock, an employee of Carroll Shelby in the early '60s, and the designer and champion of the Daytona Cobra Coupes. The book kicks off with the Cobra roadsters, and their shortfalls in European competition, which brought about the Daytona, plus the concept, design, and construction of the coupes, of which five were built in Modena, by Italian craftsmen, using an old tree stump to shape the curvaceous alloy bodies.
The Daytona Coupes only raced for two seasons, 1964 and '65, and Brock covers each event in high detail, including Le Mans, and the amazing Tour de France, plus Reims, Daytona, Sebring, etc. Brock also includes the ongoing development of the cars, which was often seat-of-the-pants, at race events, such as the addition of the rear spoiler which was crudely grafted to Phil Hills car at Spa-Francorchamps, early in the Daytonas career.
It is an immense and impressive book, boasting over 530 pages, with numerous rare and beautiful photos, and paints a clear picture as to why these cars are so hugely desirable and valuable now. It also includes an Epilogue detailing the fate of the six Shelby cars, plus the still-born big block Type 65 Super Coupe, the Willment Coupe, the AC Coupe, and the Willment/Ghia Coupe, which never actually raced.
Daytona Cobra Coupes
was published in 1995, and is extremely hard to find now, as most collectors cherish the copies they have, and for good reason. But if you do happen to find a copy, grab it. But be warned, it won't be cheap.