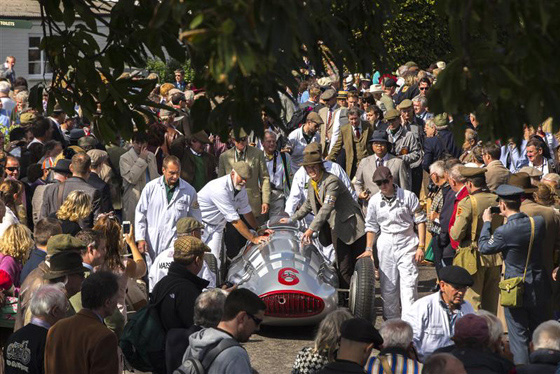 As wonderful and magical as historic racing is, if there is one thing lacking, its that the surroundings donít match the cars. Historic racing events the world over are held on race tracks that, year-round, function as, well, race tracks! To survive, they need to be continuously upgraded. Their spectator facilities, safety, pit areas, corporate areas, need to keep pace with the constant evolution of motorsport. They need to look fresh, new, and modern, regardless of age. And, quite frankly, historic racing cars just donít look at home on them.
But thankfully, the world of historic motorsport has Charles Gordon-Lennox, the Earl of March.
The Goodwood race circuit, in West Sussex, has always been slightly unique, in that it has always been in private ownership. As part of the large Goodwood estate, the circuit began life during WWII as a perimeter road around the RAF Westhampnett airfield, with motor racing taking place there from 1948, until its closure in 1966, as a voluntary measure by the family rather than destroying the flow of the track by adding chicanes, required of them to reduce speeds. From there it became a test track, and was never torn up.
In the early 1990s, and following the revival of the equally successful Goodwood Hillclimb, March had the circuit and facilities fully restored as they were when the venue was last raced on in 1966, and the first Goodwood Revival event took place in 1995. In place of the original chicane is a replica polystyrene example, which is far more forgiving than the old brick version should an miss-cue happen.
To add to the feel of the event, race drivers and crews are expected to dress in period fashion, and spectators are encouraged to do likewise. Non-period vehicles are not allowed into many areas of the pit and parking areas during the event. What all this does, is creates a dramatic time-warp feel about the event, with visitors instantly being transformed back to the 1950s or Ď60s. The circuit even has period shops.
In the world of historic motorsport, this event is truly unique, and its easy to understand why itís a sell-out. Its more than just a racing event, itís a three-day party.
Photos from the 2012 Goodwood Revival can be
viewed here > >
-