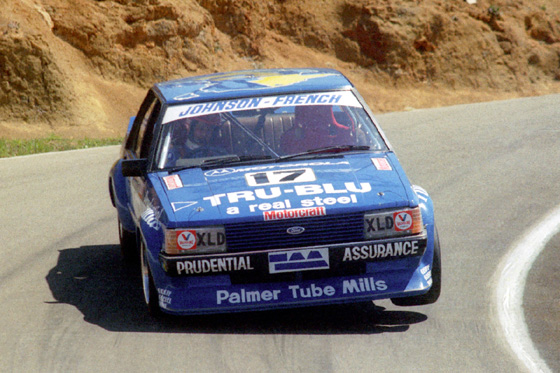 October 5, 1980. At just before 9.30am, Dick Johnson, in the big blue XD Ford Falcon with the Tru-Blu signage emblazoned down each flank, and the Queensland map on the roof, clunked his top-loader into first gear. Sat on the outside of the front row at Bathurst, at Australia's biggest and domestically most important race, he could never have imagined the series of events that were to transpire throughout this day, and how they would change his life forever.
At 35 years of age, Johnson had battled throughout his motor racing career. Success hadn't come easily. In fact, on a national level, it had yet to arrive. He'd been racing since 1964, but was a virtual unknown outside of his native Queensland. From 1980, Johnsons career would be forever linked to that of Peter Brock. With Australian touring car fans being very much divided into those who supported Holden, or those who supported Ford, the Ford fans needed a new hero, and in Johnson, they found one.
Johnson and Brock were the same age, and both started racing as teenagers. They even stationed at the same Army base during their national service, although they didn't actually know each other at the time. But they were very different people, whose careers followed quite different paths. Brock got the dream phone call early in his career, from Holden Dealer Team manager Harry Firth, and made his Bathurst debut in 1969. He was already an established super-star by 1980, having won the Australian Touring Car Championship three times, and Bathurst four times. Indeed, 1980 would be his fifth Bathurst win. Meanwhile, Johnson had met with a series of frustrations, and already retired from racing twice.
Up until 1976, Johnson had been predominantly a Holden man, just like his father, Bob. He began racing an FJ, took the traditional next step to EH's, and was the first person in Australia to race a Torana, when he debuted his brand new LC GTR. Hobbled by a lack of finances, and largely ignored by the factory teams and corporate sponsors, who were almost all stationed in the South, frustration grew throughout the early to mid-1970s as Johnsons career failed to gain traction.
Johnsons one and only Holden factory drive came in 1974, when Harry Firth offered him the seat in the out-going HDT XU-1, at Surfers Paradise, as team mate to Brock, who was racing the new and far superior V8 Torana SLR5000. Johnson qualified and finished third, behind Brock and Bob Morris. The ride came out of the blue, but a repeat offer wasn't forth-coming.
In 1976, Queensland Ford Dealer Bryan Byrt, a fanatical motorsport enthusiast, asked Johnson to take over the running and driving of his XA Falcon hardtop Sports Sedan, a former Group C touring car previously driven by Johnsons good mate John French. In modified Sports Sedan guise, Johnson would later refer to this car as the 'stinking pile of puss'. It was not a great car! Meanwhile, he made his first Bathurst start in a Ford that same year, when Graham Moore offered him the co-drive slot in his Capri, in which the pair finished tenth outright and third in Class.
For 1977, Byrt offered Johnson the chance to prepare and drive his XB Falcon GT hardtop Group C racer. The Byrt Fords were among the top contenders in their limited Australian Touring Car Championship outings over the next three seasons. But Johnsons relationship with Bryan Byrt was all to brief. Byrt was diagnosed with cancer, and would die on October 12, 1978, on a flight back to Australia from the US, where he was seeking possible treatment. He was a genuine and passionate motor racing enthusiast, who'd founded the Moffat Ford Dealers team to help Allan Moffat continue racing after Ford Australia had withdrawn their factory support. The Moffat Ford Dealers team, much like the Holden Dealer Team of 1980 onwards, would be funded by several Ford dealerships around Australia.
Byrt really wanted to see one of his cars win Bathurst in '78, and spent big to purchase a second car. But he never saw his two beautiful blue machines race. John Harris took over the huge Byrt dealership. Harris, unlike Byrt, couldn't see the benefits to be had from pouring money into motor racing, but agreed to continue supporting Johnson for another twelve months on a reduced scale. Following Bathurst, 1979, Harris informed Johnson that he couldn't fund the costs for building an all-new car, as would be required for 1980, with the release of the boxy new XD model. And at that, Johnson, once again, found himself without a ride.
One positive to come out of 1979, although Johnson didn't realise it at the time, was a re-acquaintance with a fellow he more or less grew up with, Ross Palmer. Johnsons younger brother Dave and Ross' brother Ian did their carpentry apprenticeships together, and Ross and Ian were regular visitors to the Johnson family home. With John Harris cutting back the amount Byrt Ford spent on motor racing, he sought to gain additional sponsorship from outside companies, which included Ford Credit, and radio 4BC, while Palmer Tube Mills also came on board with a small amount of backing.
Les Palmer, Ross' father, built a tube rolling machine in his backyard, and his tube mill business quickly grew, being the only one of its type in the Southern Hemisphere, and eventually expanded into other areas. Among their tube milling products, were their Tru-Blu pre-painted square and rectangular hollow sections, Red-Roo pre-painted pipe, and Greens-Tuf lightweight square and rectangular hollow sections. In 1979, Ross Palmer bought the tube making side of the business, taking on heavy debt to do so, and while his initial foray into motorsport sponsorship was small, he'd eventually become an important cog in furthering Johnsons career.
The rest of this article can be
viewed here > >
-