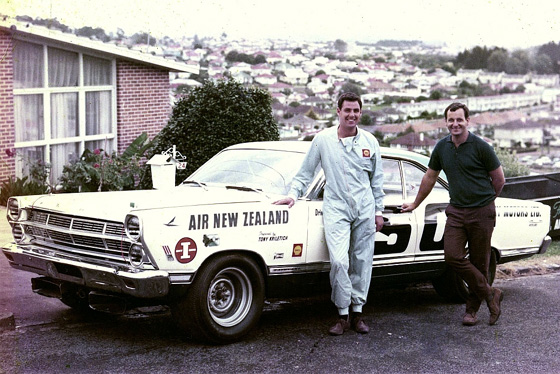 One of the great things about running this website is that, every now and then, someone will reach out and offer a little gem they think may, or may not, be of interest to Roaring Season members and visitors. Many of the amazing photo collections that appear on this site are perfect examples of this; amateur photos taken with a basic camera, that the owner has had hidden away in boxes for decades, thinking nobody would be interested in seeing them. The fact is, this stuff is pure gold, and its like Christmas every time someone tentatively offers up something they have.
Such was the case just recently, when I got this wonderful email:
"Hi Steve -
Didn't know if / where this sort of thing might go on your site, but if you're interested, this is a pic of Robbie Francevic and Tony Kriletich (outside Robbie's place from what I remember).
I've got pics of Tony working on the Custaxie somewhere.... and some 8mm of races.
As a young thing I spent many hours hanging around the garage watching him boring and grinding. Tony is my Uncle.
Cheers
Paz"
Here is the photo Paz had attached to the email. How incredible is this! What an absolute gem. Australian members and visitors to this site will remember Robbie Francevic as being the tall, hearty Kiwi who, in 1985, rocked up at Round 1 of the Australian Touring Car Championship, the first under the new international Group A regulations, driving a boxy silver Volvo 240T. Although seemingly the most unlikely of race cars, it quickly established itself as one of the main contenders, and Francevic himself as a driver of huge talent. The combo went on to win the ATCC the following year.
Well, ten years earlier, in his homeland of New Zealand, he'd already made a name for himself by racing with, and winning in, unlikely race cars. In late 1966, Robbie Franicevic (note, his name was spelt with two 'I's, the first of which he dropped in 1967, when having gone to the US to race, found the American's struggled to correctly pronounce his name) appeared at the opening round of the 1967 New Zealand Saloon Car Championship in a large, grey, ungainly machine that typically bucked the trend. That 1967 championship was to be the last one held for the popular Allcomer sedans, a category that had spawned madly and wildly throughout the 1960s, as a result of being strangled by very few rules.
The previous season, the 1966 championship was won by Dave Simpson, driving a Ford Anglia which featured a heavily revised nose for improved aerodynamics, and fastback 'breadvan' roof, and was powered by a twin-cam Lotus motor. Paul Fahey, Simpson's nearest rival in the championship, raced a very similar car. The theory was that the best package, as had already been proven, was to fit a powerful motor into a small, nimble, lightweight bodyshell, and as the 1967 season loomed, so that was the direction most competitors took. Except for Robbie Franicevic.
Franicevic appeared with a bulky looking Ford Customline, featuring a one-piece 'droop-snoot' nose, a chassis that had been relocated on top of the floor to lower its centre of gravity, and was powered by a monstrous 427ci Ford Galaxie motor. The combination of the Customline body and Galaxie motor saw it dubbed The Custaxie. The big grey machine (which was soon painted a more attractive white with red/blue stripes) was the brainchild of Tony Kriletich, Robbie's god mate.
Franicevic's 1967 campaign got off to a pretty good start, as he earned runner-up spots in the first three rounds (of 7) to Paul Fahey (Mustang), Jack Nazer (Breadvan Lotus Anglia), and Fahey again, before the Custaxie, which was fitted with a limited slip diff from Round 4 onwards, won the remaining four rounds, carrying Franicevic to the championship.
The rest of this article can be
viewed here > >
-